Residential Exterior Painting
Exterior painting is a nice way to improve the value of your home and protect its structure.
Whether you live in a brand new home or one that was built in the 1800's, we can help you paint the exterior of your house. We also do exterior painting on commercial buildings of all kinds.
Preparation is the most important step to make sure your exterior painting job looks professional and lasts for a long time. The first step is to remove any lighting fixtures or house numbers and cover all electrical outlets and windows. We do power washing, scraping, sanding, and brushing to prepare your house for paint. We want to ensure that you get the best paint job, and that it lasts a long time. After the initial preparation, we apply a primer. Quality exterior paint jobs can last several years before needing to be done again.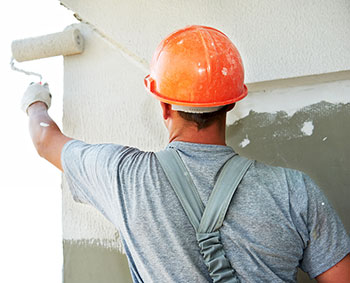 You might think that exterior painting isn't that hard a project to take on by yourself. We encourage you to call us, because we have skills and expertise to finish the job in a timely manner.
Here are some of the issues a homeowner can run into:
Painting the trim – Painting the trim of the exterior of your home can take a lot of time to do right. It is a very detailed process, and one false move could be noticeable.
Siding and shutters – Because they are not a flat surface, there is a certain way to paint siding and shutters. Painting vinyl siding can be difficult, because the paint has to be able to adhere to the siding.
Buying the right amount of paint for the job – Estimating how much paint you'll need to cover your house when painting the exterior is difficult. Because we have so much experience painting, we can estimate within a close proximity. This will save you time and money.
Weather – Latex paints are efficient, because they dry very quickly. However, if it rains, the latex paint will wash away, since it is water-based. Oil-based paints do not have this problem. Also, some seasons of the year are better than others for painting.
Tools – If you've never done exterior painting before, you may not have all the right tools. We have all the paint brushes, rollers, sprayers, scaffolding, ladders, and drop cloths needed to paint your entire house. We make sure to take care of your house and all of your lawn and lawn furniture in the process.
Time – Painting the outside of your house is a big project that takes a long time. It may not seem like a lot of work at first, but you'll soon find out it definitely isn't easy. You probably work at your job full-time; this is our full-time job. Let us help you spend more time with your family.
If you have any other questions about exterior painting, or you want us to give you an estimate, don't hesitate to call us.
You might find that after we're done with the exterior painting, you want to do some landscaping and decorating of your own. When the appearance of your house shows a big improvement, you want everything else to match. Check out your local hardware stores or home and gardens magazines for ideas on lawn furniture, hammocks, hanging plants, and walkways. Your house will look like a brand new home in no time.
Exterior painting isn't as easy as painting a room inside your house. Outdoors, you have to battle the elements. We know what kinds of things painters are up against, and we feel confident that we can give you the look you want with a punctual turnaround time. Contact us if you're interested in giving your house a bright new color or a regal new look.
Our residential exterior painting services are available in Rhode Island and eastern Connecticut.
For commercial jobs, we service all of New England, Connecticut, Rhode Island, Massachusetts, New Hampshire, Vermont, Maine and New York.