Residential & Commercial Pressure Washing CT
Pressure washing cleans off any dirt, mold, dust, or mildew before the painting process begins. This ensures a smoother finish when painting is complete. Pressure washing can also be used on buildings and homes simply because they need a good cleaning. There are two types of water used for pressure washing, depending on the surface. The two types are: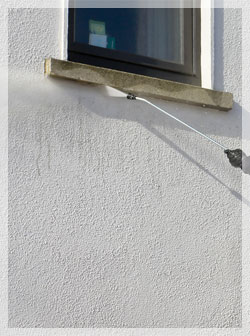 Hot water – Hot water is used for surfaces that may have grease, dirt, or oil on them. Hot water is also good for concrete surfaces and the grout between bricks. Hot water pressure washing is done with specific washers that heat up the water. Electricity, natural gas, and kerosene can be used to heat the water. Hot water can sometimes speed up the cleaning process.
Cold water – Cold water is often just as effective as hot water, but generally takes more time. Using cold water for pressure washing is a good idea when washing siding. The cold water is also less expensive since there are no costs for fuel.
If you have questions or concerns about the different types of pressure washing, contact us. We can answer any questions you have as well as tell you what type of washing are right for your home or building.
When a pressure washer is used, it's easier for the paint to adhere to the surface. Dirt only causes problems, so if you apply a primer layer coat without power washing, you'll have trouble. Pressure washers get off any dirt, dust, pollution, mold and chipped paint. If you have an old home, we will have to make sure there is no lead in the paint. They also remove the chalky residue on your home's exterior. This chalky residue is oxidation from the elements.
Pressure washing is a job that can require scaffolding. It can be dangerous if you've never worked with a pressure washer before. Some of the dangers of inexperienced pressure washing include:
Pressure washers can really harm any bare skin they come in contact with.
Ladders can be knocked over from the force of the pressure washer. You could fall backwards off the ladder or the ladder could come with you.
If the water is too hot you can damage some kinds of vinyl siding and even wood fixtures.
Even if you read the directions to a power washing machine, that doesn't always mean that everything will work out perfectly.
Pressure washers take a lot of strength. It can be quite a workout to operate one successfully, especially on a big house.
Cold water and hot water pressure washers have different parts that don't always interchange.
Water can get into holes and crevices or behind siding and cause damage to your home's construction.
If the water is hot and the weather is cold, you might even crack one of your windows.
Spraying light fixtures, plants, or electrical outlets could end in disaster. It only takes a split second to shoot the water somewhere you shouldn't.
Not only can we get your project done in a timely manner, but we can also do it safely. We know all of the different things that could go wrong when we do a job, and we do everything in our power to prevent them. We will save you a lot of trouble and possibly pain.
We pressure wash both homes and commercial buildings. We have the tools and skills to get the job done right and in a timely manner. We will pressure wash the exterior surfaces before we begin painting. If you're selling your home, having company, or just want your house clean, we can pressure wash without painting. If you have any questions please call us.
Our residential pressure washing services are available in Connecticut and Rhode Island.
For commercial jobs, we service all of New England, Connecticut, Rhode Island, Massachusetts, New Hampshire, Vermont, Maine and New York.