Residential Interior Painting
Interior painting gives your home a fresh new look. Painting can be a great addition to a newly decorated room or a way to improve your current room. Our interior painting services will give your space a professional and fashionable quality. We offer painting choices to go with any room you want us to paint.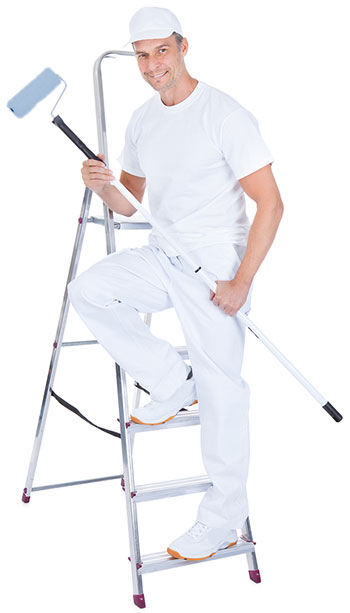 Primer is the coating we use before we start your paint job. It is easier for paint to adhere to primer than the paint surface you originally have, because of the wear and tear that has occurred on the current surface.
Today, Latex paint is the most common type of paint used for interior painting, and it is water-based. Water-based paint tends to dry more quickly than oil-based paint. Latex paints are good for high traffic areas, because they are very durable. However, if a latex paint is not applied correctly, you might be able to see some of the brush strokes. Our craftsmen are very experienced with this, so the end result is flawless.
Gloss or sheen is the relation of light to the paint. These are terms used to describe the way a room looks once it is painted. Depending on the color and style of your room, you can use paints with different kinds of sheens or glosses. Some of these looks include:
Gloss – Gloss is a very durable kind of paint used for interior painting. It is used very commonly and is easily cleaned. High gloss paint is more susceptible to showing imperfections that occur on the surface of the wall.
Semi-gloss – Much like gloss types of paint, semi-gloss paints are durable and ideal for interior painting. They have less of a shine than gloss paints.
Satin – Satin is a glossy paint used for making rooms in your home look more fashionable. This is ideal for an interior decorator. It is not as easy to clean as the gloss and semi-gloss paints.
Eggshell – Eggshell paints are not as glossy as the other kinds of paint. It is almost like a matte paint, but there are small differences based on the brand of paint and the manufacturer. It is considered one of the low sheen paints.
Flat and Matte – Flat and matte paints are also low sheen. They don't reflect any light. Traditionally, most ceilings are painted with flat paint.
If you want more information about the types of glosses used in interior paint, or information about which type of paint to choose, call us. We can help you decide which paint to choose for your design project.
The right preparation is necessary when doing an interior painting project. Our company takes every precaution to make sure that your house and your belongings are safe and sound during the painting process. We have the skills and professionalism to guarantee a polished looking paint job. We offer a variety of different colors, so you can have any kind of room you want.
We also offer several different types of faux finishing or "specialty" finishes to give your room a unique look. This may include the use of multiple colors on one wall, rag rolling (which works on smooth or textured walls), or even a textured ceiling. We can also create a seamless effect that looks great. If you are looking for a way to make a particular room have its own "personality", we are happy to discuss this with you to make that happen.
Whether you're building a new house, remodeling your home, or planning a nursery for a baby on the way, we can come and help do the interior painting. We have the knowledge to make your room or rooms look professional. We also offer a great turnaround time, so you and your family can use the rooms as soon as possible. If you have any questions, please give us a call.
Our residential interior painting services are available in Connecticut and Rhode Island.
For commercial painting, we service all of New England, Connecticut, Rhode Island, Massachusetts, New Hampshire, Vermont, Maine and New York.