Commercial Interior & Exterior Painting
Commercial painting can give your office space a professional look. In addition to the visual value you can add to your business, commercial painting also coats and protects your building. We use high quality paint and offer a variety of choices.
In addition to painting the exterior of commercial buildings, we can also paint the interior or power wash your building so it is nice and clean.
We paint many different types of commercial buildings. We paint buildings that are brand new, existing, as well as occupied buildings that have people come in and out every day. We can paint one office or a multi-story commercial building. If you're interested in having your building painted, but your space isn't included in this list, you should still contact us. We can come out and give you an estimate and talk about the best way to proceed with your project.
We make sure that all the prep work is done so that you end up with a great finished product. Commercial buildings often experience a lot of wear due to high traffic. We can scrape and sand any areas that need it, as well as fix any scratches or holes, before we use a layer of primer. The goal of proper preparation is to help your paint last longer. Commercial paint comes in the same varieties as residential paint, but in some cases it is made to be stronger and withstand the hustle and bustle of business.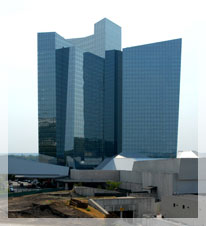 Commercial painting does not always involve an empty building. We can work around your schedule and the things in your building. If needed, we can divide up the job into separate days, so you can keep working. If this is the case, we try to make sure that your business looks as normal and professional as possible, until the job is complete. We offer a quick turnaround time so that you can get back to work as soon as possible. We also make sure that when we leave, everything is spotless. We work to give you exactly what you want. No commercial painting project is too difficult for us.
Safety is a main concern when commercial painting. We offer professional painting services and ensure our safety and yours. We abide by all the rules and regulations set down by OSHA when commercial painting. We use every precaution when commercial painting, including goggles, protective clothing, and ventilation. Some buildings still contain paint that is lead-based. We can get rid of any hazards having to deal with lead paint or asbestos. We will also make sure that everything is safe for people to be in your building once we leave and the paint is dry.
You'll save time by hiring us for your commercial painting jobs. We'll make sure that the job looks absolutely professional. This is especially helpful if you're advertising or holding meetings in your building. We have all the tools to do the job, and we handle the entire cleanup, so you'll never know we were even in the building. Maybe you're a church that is growing and adding on a new wing. Perhaps you're a small business owner who is rethinking his advertising strategy. Maybe you are just sick of all the bland cubicles in your office building and you want a little bit of color. Give us a call – we can come out and give you an estimate.
Our commercial painting service is available in New England, Connecticut, Rhode Island, Massachusetts, New Hampshire, Vermont, Maine and New York.
For residential jobs, we cover Connecticut and Rhode Island.